Throughout Q4, The Zenoss team continued to not only streamline and fortify our stalwart ZenPacks (Windows, Linux Monitor, Cisco UCS, OpenStack, Dell Poweredge, etc..), but also delivered key enhancements to the ZenPacks catalog.
The full list of ZenPack releases can be found here, but let's take a moment to turn a spotlight on a few of the new ZenPack features delivered through the quarter.
With HP still commanding over 25% or the world-wide server market share, the Proliant ZenPack ensures deep monitoring for the latest and greatest of HP's tried-and-true Proliant Server platform.
The 3.3.0 release provides:
Support for G9 and G10 platforms
Support for fibre channel adapter and port monitoring
Optimized WBEM modeling and performance data collection
The Layer2 ZenPack is a critical asset which allows users to easily suppress connectivity related event noise through the automatic discovery and mapping of OSI Layer 2 topology, allowing for quick root cause investigation and isolation .
The 1.4.0 enhancement optimizes memory usage of the ZenPack's underlying modeling and collection services for improved event suppression performance.
Our EMC ZenPack provides in-depth block level and file level storage support for VNX and VMAX devices.
The 2.0 release adds:
Support for large Scale VMAX devices with improved event handling for multiple storage arrays
More efficient data-point collection via WBEM providers
The ability to preconfigure status-severity mapping for status events
Capacity ZenPack:
Here is a little sneak peek at of upcoming Capacity ZenPack. This ZenPack is wrapping up its beta release and will be publically available in early 2018.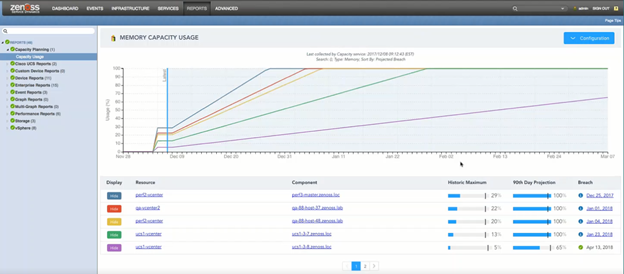 The Capacity ZenPack enables tracking and forecasting of key exhaustible resources (CPU, Memory, Network and Storage) through the application of predictive analytics to ensure IT investments are maximized and under-utilized resources are quickly identified.
Key Features Include:
Forecasting for a multitude of capacity types including: CPU, memory, storage utilization, & network bandwidth
A consolidated view into resource capacity (current usage, projected usage based on historical data, and the projected date of when a resource will breach its capacity thresholds)
Out of box alerting of when a resource is projected to breach set thresholds (when capacity is enabled)
Out of the box reporting of top utilization consuming devices for vSphere, EMC Storage, NetApp, and Cisco UCS devices, with the ability to track and forecast future consumption